The structure of this website is shallow but broad. There are three levels: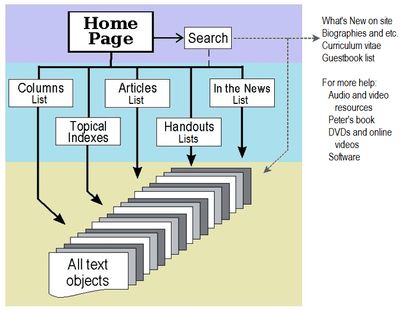 There are a separate group of assorted pages including various bios of Peter, his c.v., and other resources such as his book and software that don't actually fit on any one level. The search function, available at the top of every page including this one, searches the whole site. Below the home page level are the various lists and indexes.
---
The Home Page
On the home page there are links to each of the lists and indexes along with links to the various assorted pages and, of course, the search function. The lists and indexes can be reached from the home page, from the menu across the top of every page, and through the search function.
---
Lists and Indexes
"The Big Three" (Lists)
There are three main lists, which are in order chronologically with the newest item first. Every text object except for the handouts is listed in one of the three lists. (The handout have their own lists.) Articles by Peter that aren't available on the web are in his C.V. but not in any of the lists, which are confined exclusively to content people can get to online.
Topical Indexes
Various "text objects" are classified by Peter as belonging to one or more of the topical categories listed below. Classified text objects are marked with a category tab both on the page, and in whichever of the "big three" lists it appears. Each topical index list the text objects Peter recommends reading if you are interested in that category. (Some text objects that might fit into one or more categories, but are only peripherally germane, or are repetitious of the material already in the index, are not given a category tab nor included in the topical indexes. Those, of course, do appear in the "big three" main lists.)
Guestbook
When Peter answers his guestbook commenters, the questions with Peter's answers are entered chronologically into the guestbook list, most recent first. The guestbook is divided up into separate files by year. All guestbook entries are in the guestbook index, but only some of them are also listed in one or more of the topical indexes.
Handout List
There are many handouts from many of Peter's seminars that are provided on the website.
---
"Text Objects"
This is the repository of all the articles, columns, and other "objects" available on this site. Each of them is accessible from one of the three main list, many of them are accessible from the topical indexes, and all of them are accessible through the search function.
Copyright © 2010 by Elenor Snow, Peter's webmaster