In November 2007 I had a chance to run a two-day risk communication seminar at a Scottsdale (Arizona) meeting of the International Association for Public Participation. I have been a member of IAP2 for many years, since back when it was IAP3 (International Association of Public Participation Practitioners). I even gave a seminar for the group once before, in 2000.
But I've never been a very active member, and until I started preparing for Scottsdale I never thought very deeply about the relationship between risk communication and public participation (PP). I tried my new thinking out on the group in Scottsdale – which included three IAP2 Board members – and the resulting discussion made me do some rethinking. But my ideas on this issue are still very preliminary. I'm trying out the current version in this column.
The Public Participation Paradigm
Let me start with the paradigmatic public participation event – which is, obviously, a public meeting. It's not just any meeting. It's a meeting where a diverse group of citizens interact with each other and with officials about a pending decision. PP practitioners try to make such meetings happen, and try to make them as useful as possible.
From a PP point of view, these are some of the specifications for an ideal meeting:
People are there voluntarily.
They are there to discuss an issue that matters.
There are real decisions yet to be made about the issue. The fix isn't in.
Participants at the meeting represent the full range of possible participants, diverse on at least three dimensions:

Demographics – age, gender, ethnicity, etc.;
Opinions on the issue at hand – some are strongly pro-X while others are just as strongly opposed;
Interest in the issue at hand – some are passionate, but others are merely curious or perhaps not even curious.

The discussion is calm, thoughtful, and generally unemotional. There's a lot of reasoning, and not a lot of shouting.
The discussion is mutually respectful. People listen to each other. They believe that a better decision will result if everybody's viewpoint is considered. They may even concede that the other side has a few solid points to be made on its behalf. They are looking for a consensus if possible, a new answer (or set of answers) that meets everybody's needs. Failing that, they anticipate a compromise.
Decision-makers are there as well, and come prepared to be responsive – not just in what they say at the meeting but also in what they will ultimately decide to do. The meeting's participants may or may not have some decision-making power of their own. But even if the meeting is strictly advisory, there is reason to expect that some of the advice given will influence the outcome.
Of course PP people facilitate a lot of meetings that fall far short of these ideals. But that's still the paradigm.
Where does the PP paradigm fit in the risk communication universe? As frequent readers of this website know, I distinguish a risk's "hazard" (how much harm it's likely to do) from its "outrage" (how upset it's likely to make people). Based on this distinction, I categorize risk communication as follows: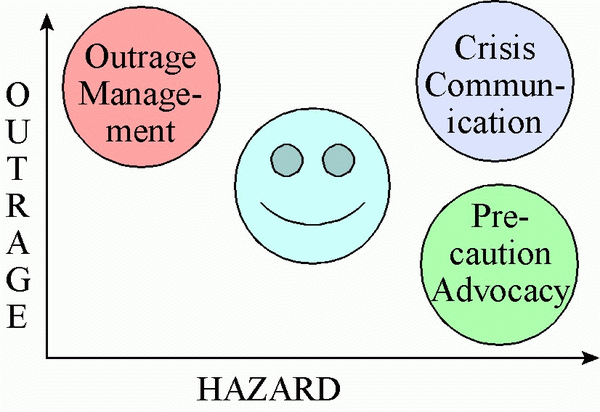 When hazard is high and outrage is low, the task is "precaution advocacy" – alerting insufficiently upset people to serious risks. "Watch out!"

When hazard is low and outrage is high, the task is "outrage management" – reassuring excessively upset people about small risks. "Calm down."

When hazard is high and outrage is also high, the task is "crisis communication" – helping appropriately upset people cope with serious risks. "We'll get through this together."

When hazard and outrage are both intermediate, you're in the "sweet spot" (hence the happy face) – dialoguing with interested people about a significant but not urgent risk. "And what do you think?"
Which of these four kinds of risk communication most resembles the public participation paradigm – PP's ideal meeting? The sweet spot, obviously.
When outrage is very low, people are apathetic. When outrage is very high, people are upset. In the sweet spot, people are interested. When hazard is very low, it's hardly worth talking about, at least not for long. When hazard is very high, the situation may well be too urgent to stop to talk, at least not for long. In the sweet spot, talking the issues through is the main priority.
The sweet spot is also the place on the risk communication "map" where the conversation is most likely to focus on data. In precaution advocacy (high-hazard, low-outrage risk communication), people aren't paying enough attention for you to explain a lot of data (until after you get them interested, if you manage to accomplish that). In outrage management (low-hazard, high-outrage risk communication), people aren't trustful enough for you to explain a lot of data (until after you improve the relationship, if you manage to accomplish that). In crisis communication (high-hazard, high-outrage risk communication), there may or may not be enough time for you to explain a lot of data, depending on how slow-moving the crisis is; and there may or may not be enough calm for you to explain a lot of data, depending on upset the group is. In the sweet spot, you invariably get to explain a lot of data.
Obviously, public participation practitioners facilitate a lot of meetings that aren't at the sweet spot. But the sweet spot is where they want to be.
The Outrage Management Paradigm
Here's a very different public meeting:
Most of the people at the meeting are upset – angry or frightened or both.
What they're upset about is a foregone conclusion, or at least they think it is. Decisions have been made that meeting participants oppose. They want to reverse those decisions, but they doubt they can accomplish that goal via persuasion. They hope to accomplish it via political action.
Participants may be upset at each other – that is, divided on key issues. But usually they are mostly on one side, upset at the decision-makers. People who support the decision-makers are less likely to show up for the meeting, as are people who don't care much either way.
Participants' chief reason for being there is to vent – to voice their objections in the presence of each other, the decision-makers they're upset with, and journalists who can help them spread the word.
While the participants are there voluntarily, the decision-makers have come to the meeting because they cannot avoid it. Their goal is to protect their prior decisions, to avoid giving ground. Their other goal, which conflicts with the first, is to calm people down.
The substantive issues are minor compared to the emotional issues. The outcomes participants fear most are considered unlikely by technical experts. Participants find it easy to believe those outcomes are likely mostly because the decision-makers have been (and continue to be) arrogant, over-reassuring, dismissive, unresponsive, and not quite honest.
This is the outrage management paradigm. Or, rather, this is the sort of situation outrage management tries to address. The premise of outrage management is that when a controversy is substantively minor but emotionally hot, decision-makers should listen to upset stakeholders, let them vent, validate their legitimate grievances, share control, establish mechanisms of transparency and accountability, and generally learn to behave more decently and more responsively. The promise of outrage management is that when decision-makers do all that, over time stakeholders are likely to get calmer. As their outrage declines, they will be better able to see that the hazard is low. (Remember, we're stipulating that the hazard really is low. When people are rightly upset about a serious hazard, the paradigm is crisis communication, not outrage management.)
Obviously, the sort of public meeting outrage management was developed to calm is quite different from the sort of public meeting PP practitioners were born to facilitate. This column is about those differences and their implications
What about the other two risk communication paradigms, precaution advocacy and crisis communication? Where do they fit in the comparison of risk communication with public participation?
Precaution advocacy hardly fits at all. The precaution advocacy audience is apathetic by definition, and apathetic people don't come to many meetings. But there are exceptions to this generalization. Sometimes you can require apathetic people to come to a meeting (e.g., your department has a weekly safety meeting), or catch them at a meeting they're having for other reasons (e.g., you make your health pitch at a ballgame). More importantly, apathetic people aren't necessarily apathetic forever. It's hard to get them interested, but not impossible. As they start to get interested, if they do, precaution advocacy approaches the sweet spot. Thus PP practitioners can find themselves facilitating a meeting that focuses on precaution advocacy – explaining the hazard, telling people what you plan to do about it, getting their feedback, discussing how they can get involved, urging them to take precautions of their own, etc.
As for crisis communication, an acute crisis may rule out a meeting altogether; if you need to evacuate or inoculate people, there probably isn't time to meet with them first. But sometimes even an acute crisis moves slowly enough to convene a meeting. During the 2003 SARS outbreaks, for example, Singapore's government held a series of successful meetings to explore the pros and cons of revealing the names of people who had been ordered into home quarantine. Many high-hazard, high-outrage situations, moreover, hang over a community for weeks, months, or even years. The dam has cracks and nobody knows when it might fail; the epidemic is spreading and will probably get here in a few weeks; the groundwater is contaminated and should reach our drinking water source late next year. There's ample time for meetings about these future crises. Here crisis communication approaches the sweet spot. And so PP practitioners can find themselves facilitating a meeting aimed at helping rightly upset people think through what they plan to do, individually and collectively, about a prospective crisis that looks like it's coming.
Still, when risk communicators are worrying about how to run a meeting, odds are they're imagining one of two meetings: a rational debate about important substantive options (the public participation paradigm) or an emotional venting of fears and grievances (the outrage management paradigm). Meeting management begins with getting clear on the differences between these two paradigms.
Of course, many meetings end up someplace in the middle. There's an important substantive decision to be made, and in order to make it wisely people's differing opinions and interests need to be considered. But some people find some of the options hard to consider calmly – those options arouse outrage that goes way beyond the substantive pros and cons. A few months ago, for example, I consulted with a government agency that was trying to decide how to meet the future water supply needs of a growing seaside city. Tap into groundwater, even if it's a little polluted? Build a desalination plant, certainly increasing water costs and possibly damaging some ocean species? Pipe the water in from the countryside, which has aquifer to spare for now, but doesn't necessarily want to give it up? Recycle wastewater, and get people used to the idea of drinking the stuff? Find ways to conserve water? Maybe even restrict metropolitan growth? Not surprisingly, various stakeholders felt a lot of outrage about aspects of the various options, complicating the discussion of substantive issues.
In fact, it's fair to say that in real life the pure paradigms almost never happen. Outrage complicates just about every substantive discussion, and substantive issues lurk beneath just about every outraged venting. A core problem in meeting management – maybe the core problem – is figuring out how to split the difference, how to address outrage and substance at the same time.
But before turning to this problem, I want to explore the two paradigms some more. I will discuss five key differences:
Difference #1: The Value of Venting